To click the best corporate event photography is one of the trickiest of all kinds of photography. Because every company has a separate corporate culture. These cultures can bring culture shock for a photographer. Moreover, what is the norm for a company can be extremely casual for another? In that case, you also have to get yourself ready beforehand for the environment you go for a shooting.
In some corporate offices, you may feel intimidated when the CEOs and other big officials will stand in front of you for headshots. As a whole, corporate event photography can give you a completely new experience in terms of the photo-shoot. So, you have to know how to execute your job as a photographer. In today's blog, you will get to know some tips to improve your photography skills to ensure captivating corporate event photography.
Know Your Client's Need
The ultimate goal of any kind of photography is to satisfy your clients. To do that you have to be clear about what your clients want. This is one of the primary jobs you have to be sure of. Know if the photo-shoot is for raising funds, or award ceremony, or for setting a photo booth, or if it is a formal photo-shoot of the executive team.
If you know the purpose of the event, it will help you to make your job easy and smooth. Ask about these matters during the contract. You can have a better result.
Make a Good Deal
The normal rate of corporate event photography is higher than in other types of photography. So, while making a deal of shooting corporate event photography do not charge too low just to grab the contract. You can charge high if you have a standard portfolio and professional work experience. To get closer to a perfect price, you can ask other photographers how much they charge, then come to a fixed amount.
Know the Venue before Shooting
Visit the event place before the shooting day. You must have a clear view and idea of every corner of the location. Collect as much data as you need from the location. This will help you decide the poses and the angles you will apply while taking photos.
Find a small space where you can keep your gears and tools safely. Ask for the speaker schedule to make it easier for you to set up a coverage plan. Also, ask the company to give you the schedule of the speaker they want to prioritize.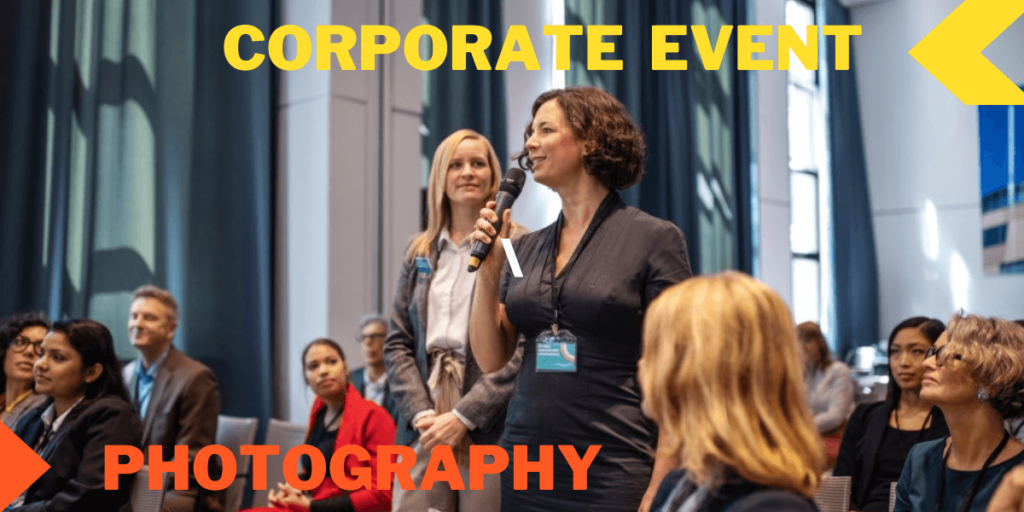 Make a Shot List
To make your task easy, make a shot list beforehand. You may think that it is not so important in corporate event photography where you cannot predict what will happen. However, you can do it by inferring the possible agenda. If you make a shot list, you will not miss any part of the event.
Take Permission of the Attendees
Many people do not want to come inside the photo frame. Who knows maybe there are some people in your events as well who don't want to show them? So, you have to take permission while shooting. Ask the parents before taking pictures of their children. You should take permission for taking photos of an eating person. If you happen to take something like that, ask them before publishing.
Stay Polite
In a corporate event, there will be people of different mindsets. Some of them can be short-tempered and some others will be gentle. However, if anyone is not behaving well, do not get influenced by that. Rather behave politely with everyone. There will be high officials, so treat everyone with respect.
Do Not Become a Distraction
Usually, we see the upper officials giving speeches on different topics. They need to keep the eye-contact right. So, your duty as a photographer should be to stand in a place where you do not become a matter of their distraction. Avoid standing in front of people.
Moreover, when you drag your photography equipment from one place to another you should do it quietly. Do not make loud noises.
Use Props
If you set a photo booth, then bringing some fancy props can make the event more enjoyable. Though corporate events are full of grown-ups you can make them have a little fun with some colorful props. Fancy hats, toys, and jewelry will do the job for you.
Be Creative
To be creative in photography means shooting photos from unique angles that show the subject under the best light. I can help you with some ideas. If there is a floral set up, then shoot between that. If it is a restaurant, then go outside and take some photos. That will allow you to represent the viewer's perspective.
Take an Assistant
When you are going to shoot events of corporates, you have to keep things formal. You cannot make a mess of the program. So, while shooting corporate headshot photos, make sure you have a personal assistant. That will help you reduce pressure, take some burden out of your shoulder, and get some extraordinary photos.
Keep Backup
No matter if your contract was just to deliver the photos after the event you should keep back up for your photos. Who knows, they might asl you in the future that they need some of the photos you took. If you keep a backup, you can make your clients delighted.
Uphold Client's Privacy
You can use your works on your portfolio. That's okay. But when you take corporate event photos, you should take the permission of the photo subject to make sure they don't have any problem being on your portfolio. You have to take care of the privacy of your clients. If they permit you, then use their photos, but if they do not feel like sharing pictures you should assure them you will never use their photos for other purposes.
Final Tip
No one can deny that taking awesome corporate photos is challenging. Well, it will remain challenging until you start trying. My final advice will be to start practicing corporate event photography. Nothing gets, easier, we get better.