Are your Amazon images optimized? Here are the 7 image mistakes you need to fix
The following steps can help you optimize and edit your Amazon product images. Any E-commerce seller on Amazon, Alibaba, or any other online selling site knows how important it is to have good quality photos for their products. Not only will they convince the potential customers they are legit, but also influence their overall shopping experience. To get better results on Google, you need to optimize your Amazon image.
If you want to have a successful product on Amazon, they must be optimized and high-quality pictures of your items?
You would need to hire a photographer who can capture the right angles, lighting, and everything that will make your product look desirable.
But if you are in hurry or just don't have the budget for a professional photographer, then here are 7 mistakes you need to avoid while taking the photos.
What Are Amazon Image Requirements in 2022?
The amazon-image-optimization tag allows you to show amazon product image optimization. It is among the most popular tags that are used in SEO Toaster. It has 5 total instances.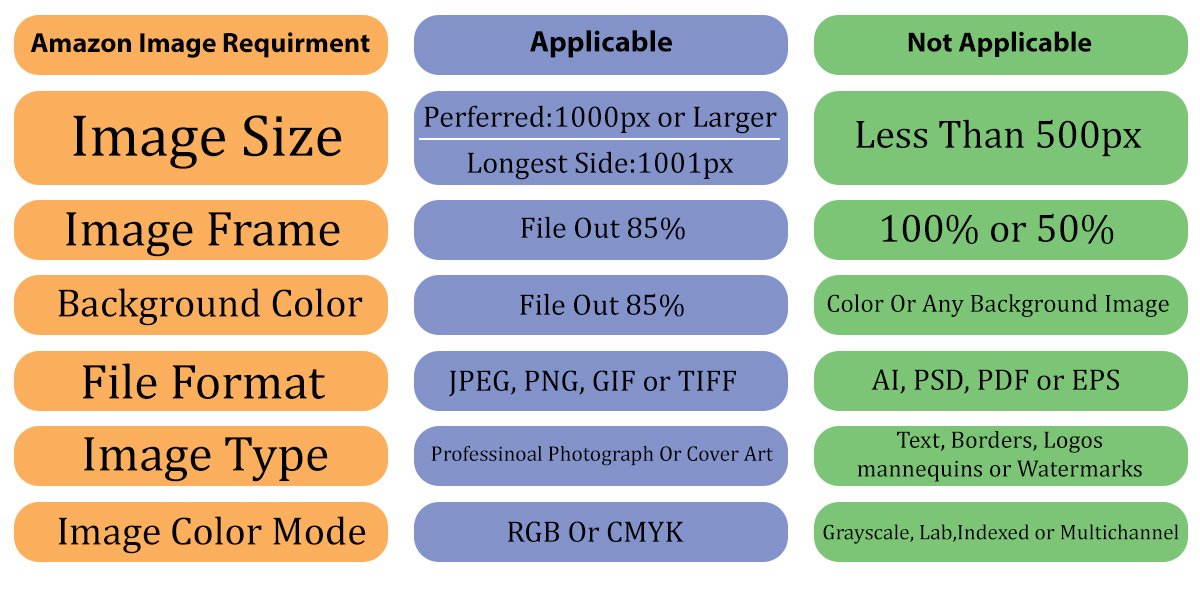 Image size on amazon image:
Amazon lets you upload pictures up to 10,000 pixels on the longest side. Make your images bigger than 1000 pixels on the longest side.
Amazon recommends a minimum image size of 1000 pixels wide or tall and 1600 pixels on the longest side. Amazon suggests your image will be less likely to become blurry if it is at least 1000 pixels wide or tall, and 1600 pixels on the longest side.
There are four different ways images can appear in Amazon product listing: Thumbnail Size (150 px), Hero Image (1200-1500px), Zoomed In Image (400px) and Gallery Items Images (~6480px).
All four types of amazon images have an aspect ratio of at least 1.6 (1600/1000). All amazon images have an aspect ratio of 1600px : 1000px.
Image frame of amazon image
The size and flexibility of the frame allow for use throughout the entire site and across all devices and platforms (for desktop, tablets, and mobile devices). The product should fill 85% or more of the frame.
No matter what product you are trying to sell on Amazon, the background color of your product photo should be pure white (#FFFFF). This is so when shoppers purchase products they can easily see the true colors in the photo because white isn't being overpowered by another color in the background.
If any other colors besides white are being used in the background, it can make the product look different or even worse depending on what color is used.
This also helps to ensure that your customers can see the whole image of your product, not just a small portion of it. Using this pure white background for photo backgrounds will help buyers see the true colors and shape of your product. This ensures that they will be getting what they paid for instead of something much different than what they were expecting.
The file format and type of the amazon image
The file format of the amazon image is important for amazon images. The best format and size is a JPEG file. PNG files are also supported but you should compress them as much as possible because it will make your amazon image load faster, which can increase sales! In general, amazon prefers JPEGs to pictures with the PNG extension. But if your amazon product has a lot of white space around it, you might consider using a PNG file.
PNGs are better for amazon products that have big amazon images with more translucent colors or textures because JPEG files can compress these amazon images poorly which decreases the quality of amazon images dramatically.
The color mode of the amazon image
The color mode of amazon images is an important thing to consider when amazon optimizes images. There are two options to upload amazon images, which are sRGB and CMYK.
1. Using Old or Low-Resolution Images is out of the box on Amazon Image Optimization
To take high-quality photos, one needs a good camera and lighting equipment. Yes, you might be able to mask bad lighting with post-processing tools but that can only do so much. If your image is too dark, you will end up with photos that are not only blurry but also unusable.
So avoid taking photos in low lighting especially if you are selling clothing or fashion products on Amazon or any other e-commerce site.
• Avoid blurry low-resolution photos
• Focus on high-quality images for a better ROI
• Protect your eCommerce business by not having unusable pictures on Amazon
• Sell more products by using professional photography
• Increase conversion rates on your amazon product page
• Provides an edge for amazon sellers against their competitors.
• More customer trust will be gained because of clear photographs
2. Poor Lighting is out of the box on Amazon Image Optimization
 If you want uniform brightness across your product images, then make sure to take them under the same lighting. Different lights will cause shadows and uneven brightness, which can have a negative outcome on your product image quality.
If your current lighting is too dim or has a yellow tint, then it's time to go shopping for a new one that will help you get rid of these problems.
3. Cropping Images Improperly is out of the box on Amazon Image Optimization
The rule of the thumb while cropping images is to keep them in their original ratios.
Even if you are trying to highlight a single feature or part of your product and others can be cropped out, then don't do it!
Otherwise, the purpose of taking the photo becomes moot. Remember that people may not be looking for a zoomed-in image of your product — they usually want to see the entire thing and make an informed decision.
• Increase the quality of your images because you are using consistent lighting
• Improve the overall shopping experience for potential customers because they will be able to see all aspects of your product with clarity
• Provide maximum visibility for products because you can take them under controlled, consistent light
• Prevent shadows and uneven brightness
• Save time on post-production editing
4. Using Stock Images is not proper of Amazon image guidelines:
Stock images might seem like an easy fix if you don't have your images or can't take any good quality photos on short notice. But doing so will only harm your product ratings.
• You want to show your customers that you care, and seeing similar photos for products like yours will make them feel like they're not the only ones
• Stock images often don't give a precise representation of what people should be expecting
• It's important to take good quality photographs to present your product as accurately as possible
• Photos from different angles will provide an accurate depiction of your product or service across various forms of media
• More authentic photos make the reader believe they know what your phone looks like, not just a photo taken by someone else.
5. Taking Distracting Photos is not perfect for amazon images:
Even something as simple as a shadow, a dirty background, or a half-eaten cookie can have a negative influence on your e-commerce store. So avoid taking photos in mess and also keep the background of your images clutter-free. You can use laptops or TV screens for a nice clean background.
• Keep your e-commerce store looking clean and professional
• Photos with a distracting background can decrease conversion rates
• Use laptops or TV screens as a clean background for your products
• Your products will be the focus of attention, not distractions
• Create a polished and distraction-free look for potential customers.
6. Not Optimizing Your Images:
There are several free tools that you can use to optimize your product images before uploading them online. For example, you can use Adobe Photoshop to resize and compress your photos without compromising their quality. In addition, make sure to name them properly as well as add weight and height to your images in HTML or XML.
-Name, resize and compress images for better online performance
– Add weight and height to your images in HTML or XML
-Reduce image file size without compromising quality
-Increase product visibility and sales by optimizing photos
7. Using Dull Backgrounds you will never get SERP on Amazon and Google:
Avoid using plain black or white backgrounds for your product images, unless the theme of the product itself has a minimalistic design. If you are selling any fashion products on Amazon try taking photos against wood, brick walls, or anything that is not too monotonous. Also avoid using studio lights as they can create an over-exposed look, which is not only hard to edit but also makes the product less appealing.
That's all for now! I hope you found this blog post useful about Amazon photo editing mistakes and if you have any other questions please feel free to contact us.
Hope you enjoyed reading this article. Please leave your feedback below and let us know what other topics would you like us to write about.
Amazon Image Optimization FAQ
What is the best and perfect resolution for Amazon images?
Get to know the Amazon Image Optimization process better with our frequently asked questions!
What are Amazon image requirements?
An amazon image requirement should have a clean white background. The first thing you need to do is find an actual picture of what your product looks like, not just any old photo but one that shows off its best features and will make buyers want it more than anything else in their shopping experience!
Your Amazon images are one of the most important things when it comes to converting shoppers into buyers. A good photo, in addition to a great product description and price, can help you boost your sales on Amazon or any other online selling site. Here are some final thoughts before you go out there and start taking photos for your products– make sure they have an aesthetic tone that is professional, clear with no blurriness, has plenty of lighting so the colors don't look washed-out, shows off all angles of the product including close-ups if needed (don't forget about watermarks!), captioned with what's included in each package size right next to the image – these few tweaks will take your product photography from mediocre to Amazon bestseller!
Hope you enjoyed reading this article. Please leave your feedback below and let us know what other topics would you like us to write about.